Anthos R7 Dentalna jedinica
---
Za narudžbu, provjeru cijena i raspoloživosti proizvoda molimo da nas kontaktirate.
Fast, simple, effective re-positioning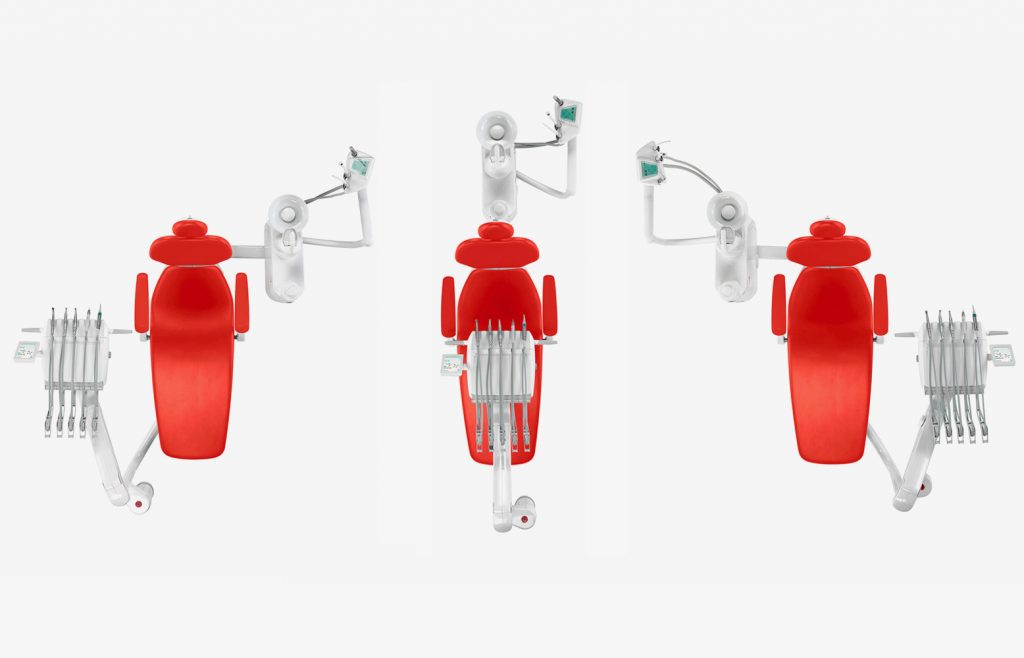 Quickswitch
With its innovative switchover movement, the Classe R7 can be converted from right to left-handed use and vice versa in just a few steps.
The mechanism that allows unit repositioning has been designed to simplify the conversion, which can be completed in mere seconds without any need for tools or technicians.
The dentist's module, unit body and assistant's module can be set up in rapid sequence for use by left-handed dentists.
Easily applied on either side of the dentist's module, the control panel offers maximum ergonomics.
All that needs to be done is to detach the instrument control panel and then reconnect it on the opposite side of the module.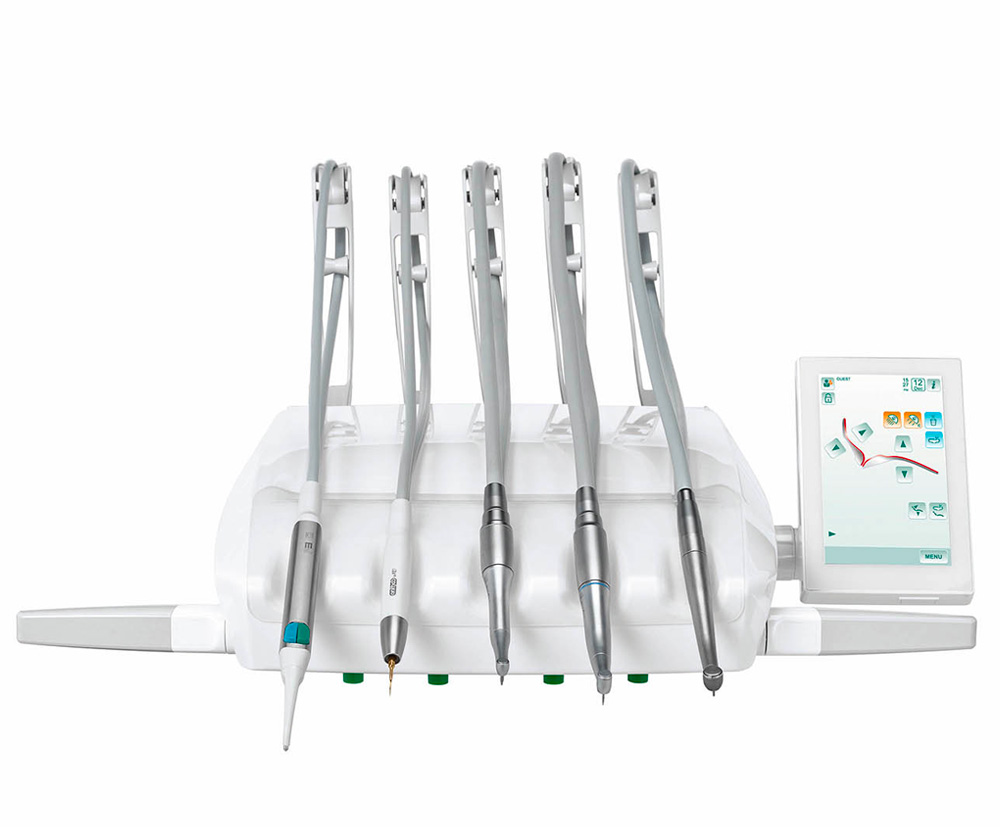 Ergonomic design, comfort and style
In addition to streamlined style, patient chair design optimises working ergonomics for the dentist and comfort for the patient. Thanks to ISO-JOINT geometry, compensated backrest-seat movement maximises comfort and minimises sliding of the patient's head. Type-approved to lift up to 160 kg, the patent chair offers extensive vertical excursion.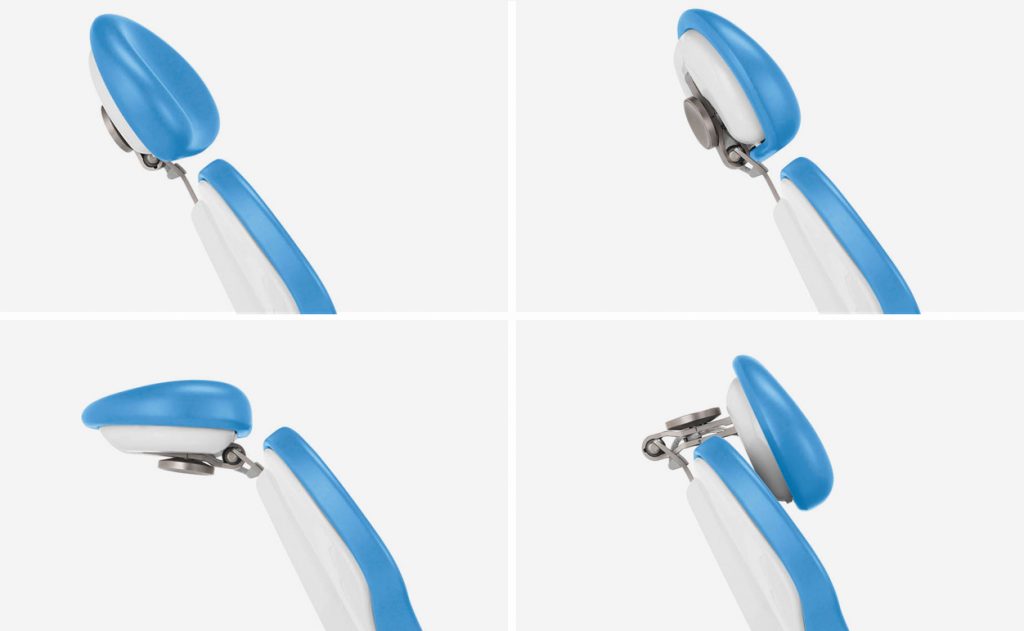 Headrest
In addition to the version with 2-axis adjustment and mechanical locking, an optional Comfort headrest faithfully follows the lines of the patient's anatomy. Orbital 3-axis movement allows perfect positioning of the head, ensuring patient comfort during prolonged treatment sessions.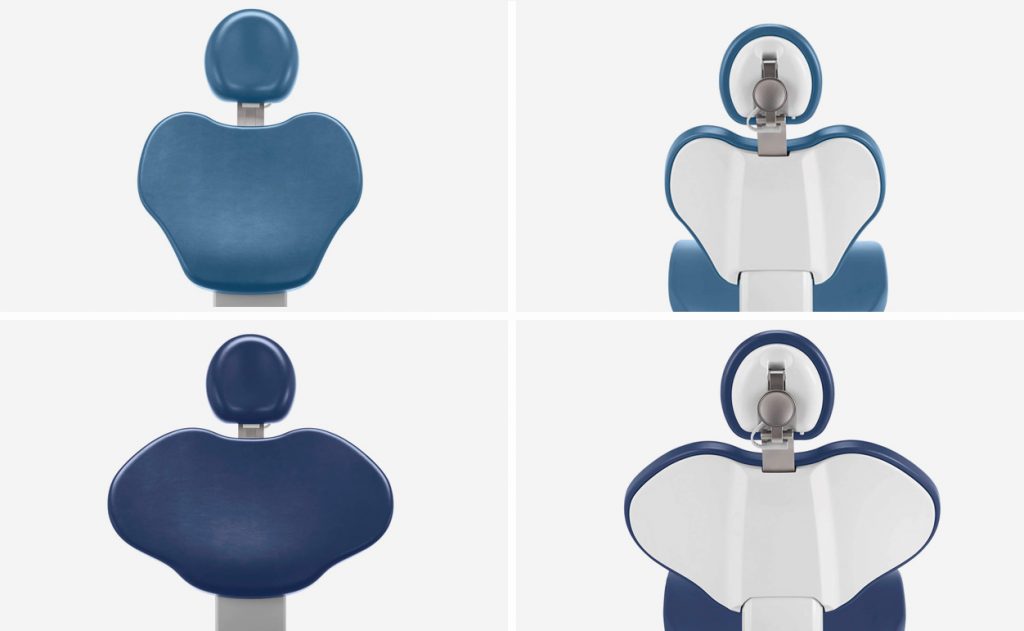 Backrests
A choice of several backrest types (narrow/wide shaping) meets all the dentist's ergonomic needs. As always, the backrest guarantees patient comfort and easy access.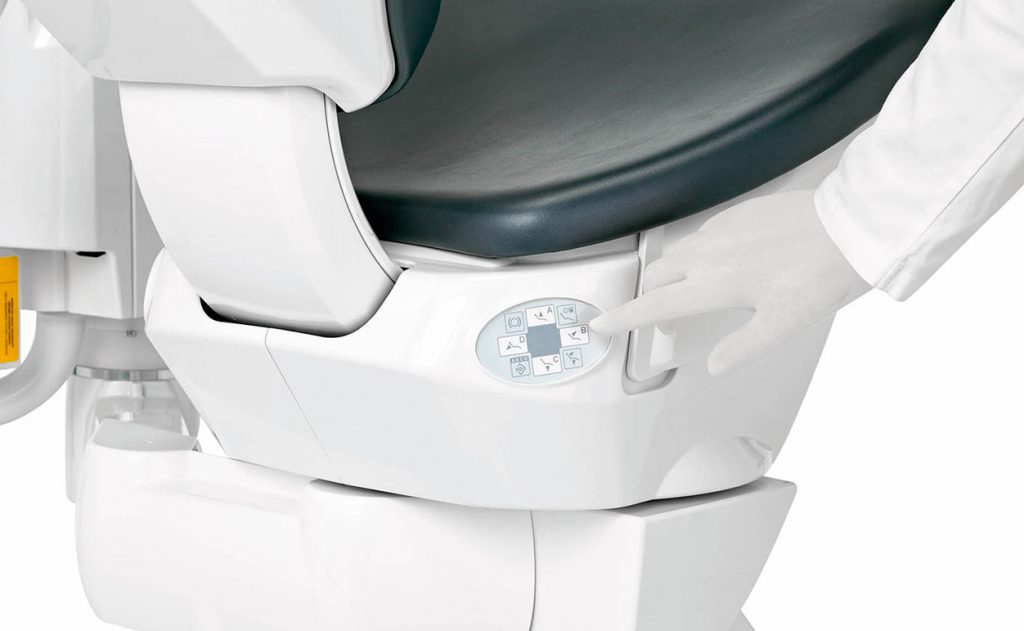 Keypad
Conveniently integrated on both sides of the seat, the keypad controls all patient chair movement.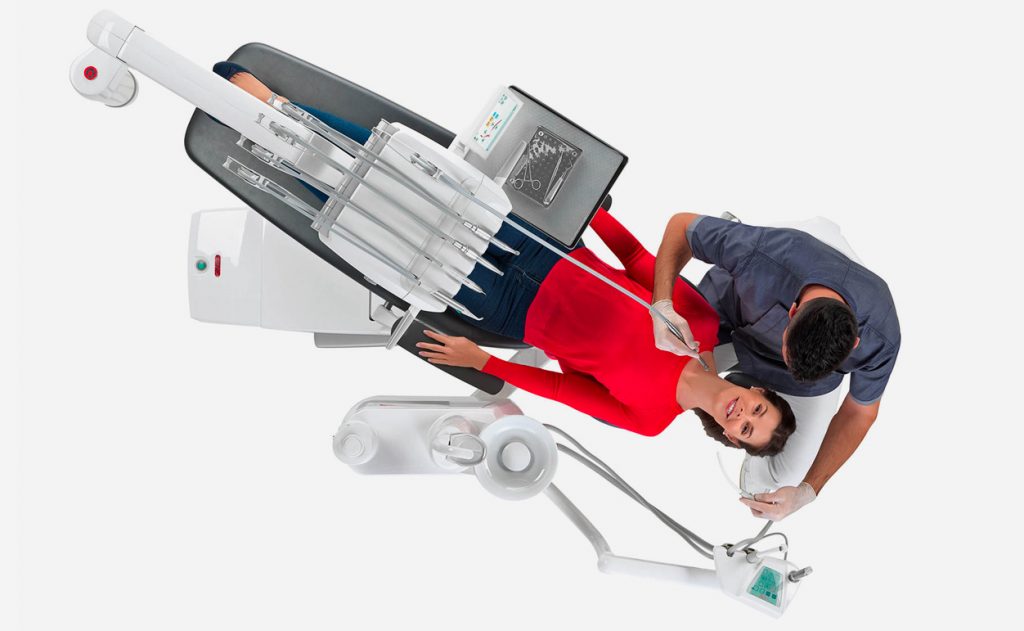 Operating efficiency and plenty of space
Rationalising the workspace according to the required treatment demands thoughtful layout of all the elements in the operating area, ensuring dentist and assistant are positioned optimally around the patient.
International, Continental, Cart
Operating efficiency and plenty of space
Classe R7 provides outstanding freedom of movement. Rationalising the workspace according to the required treatment demands thoughtful layout of all the elements in the operating area, ensuring dentist and assistant are positioned optimally around the patient. The freedom provided by Classe R7 results in smooth workflows and maximum working efficiency.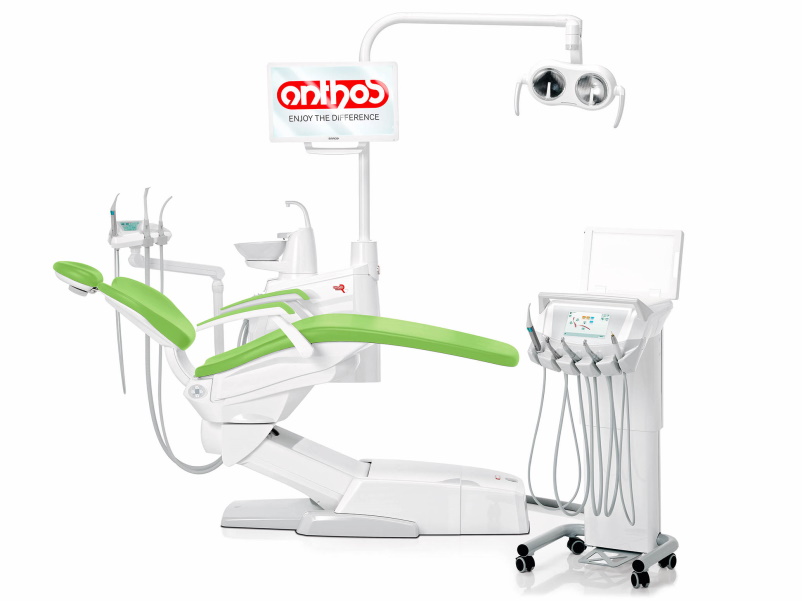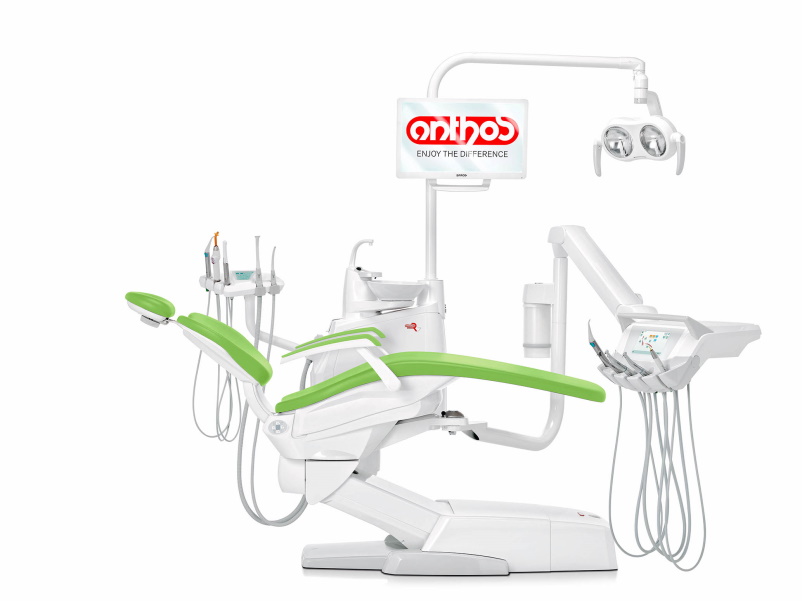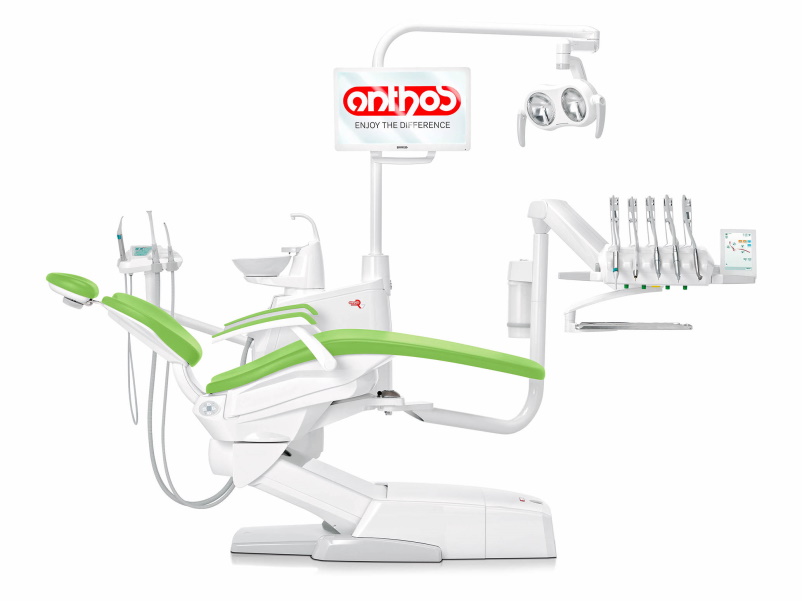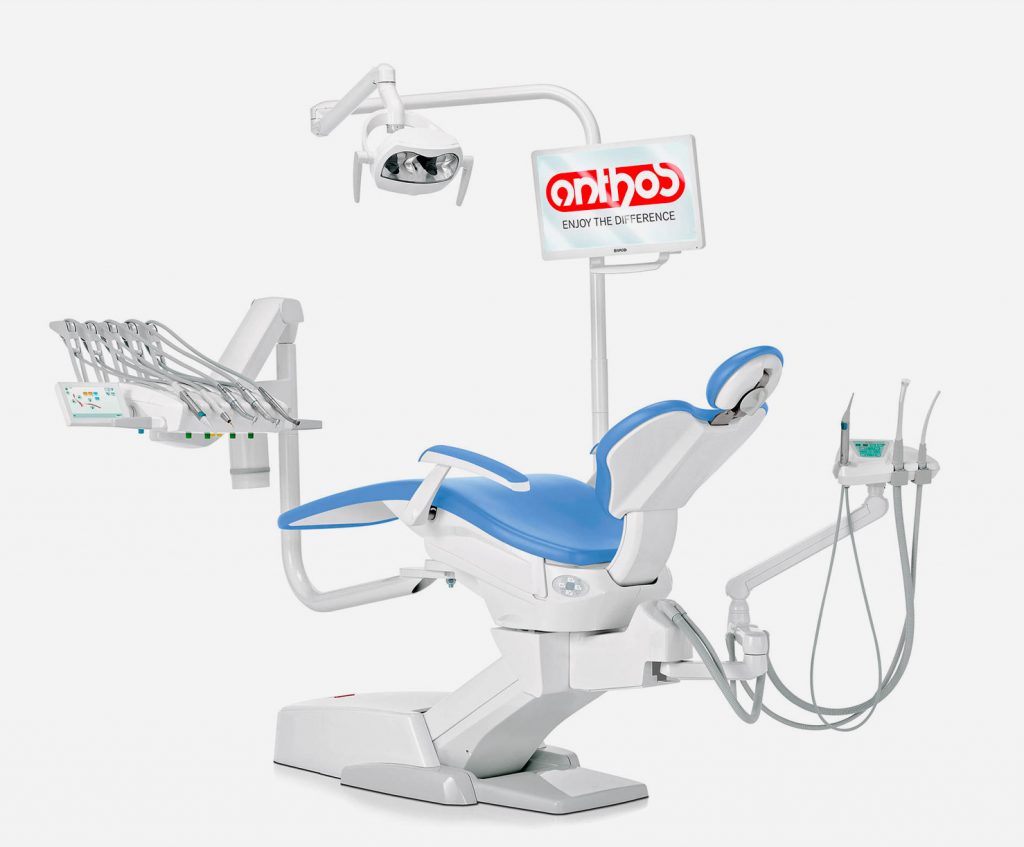 Continental: Freedom of movement
Continental version design makes the most of the manoeuvrability of individual dental unit modules. By enhancing interaction within the dental team, workflows are smoothed and streamlined. The streamlined module is light and compact while the instrument levers, which reduce vertical bulk, minimise interference with the operating light and allow considerable extension. Each lever has individually adjustable traction force and balance.
International: Ergonomic versatility
International module handpieces can be gripped with ease from any working position. The instrument layout is the result of modern design and a careful analysis of dentists' needs.
A blend of optimal control panel visibility, instrument accessibility and spatial organisation ensures unrivalled ergonomics. A transthoracic version of the large tray holder module is also available, a useful aid during surgery sessions.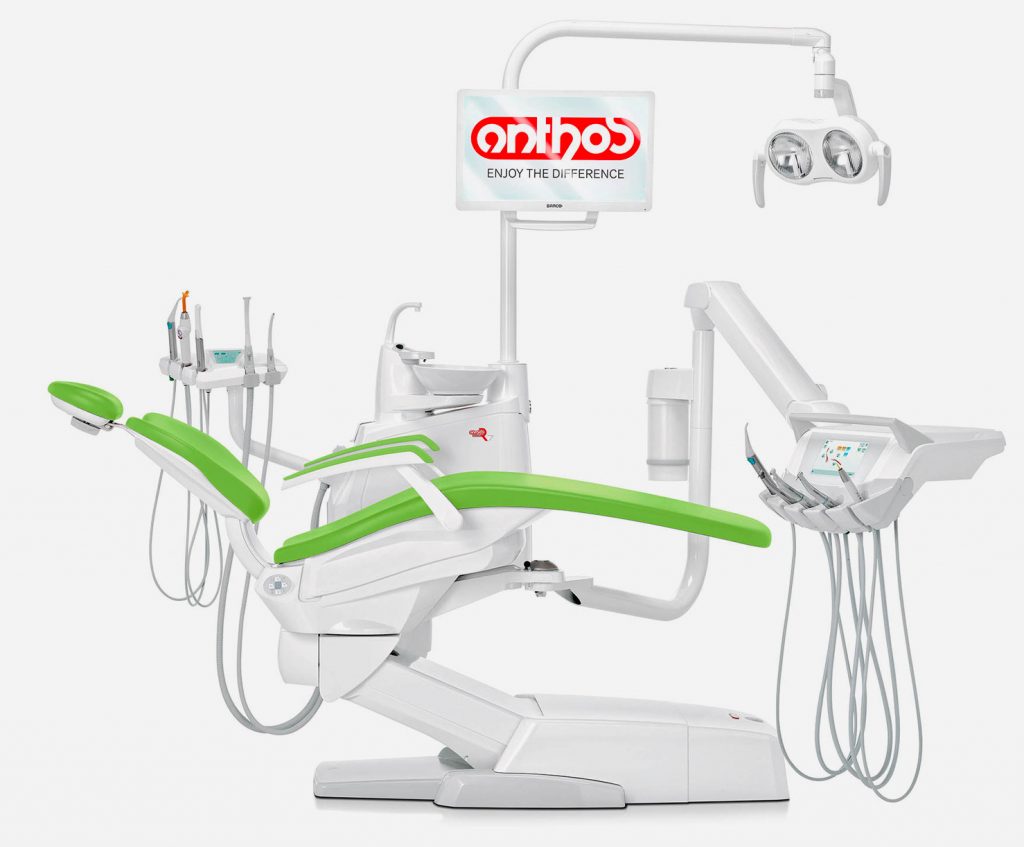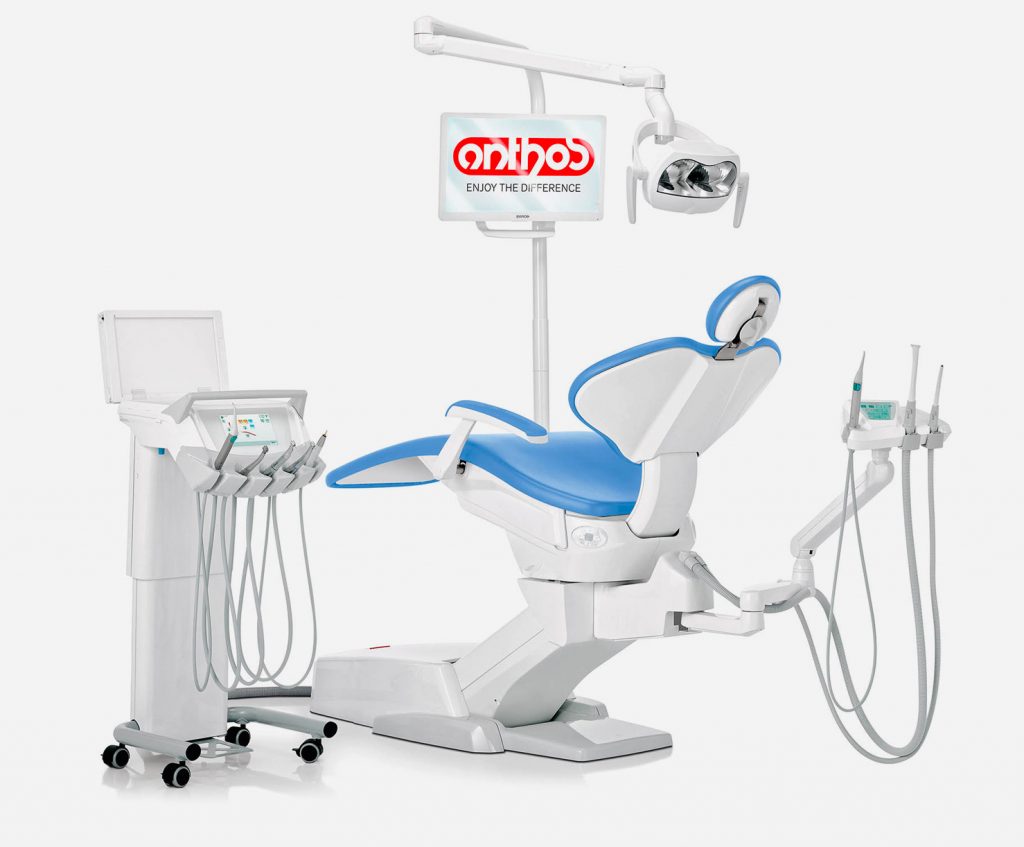 Cart: Working freedom
The Cart version ensures absolute working freedom. The outstanding mobility of the dentist's module makes it perfect for any workplace and optimal for operating theatres.
It provides all the necessary around-the-patient space yet is equally capable of letting one, two or even three staff members work simultaneously. Height-adjustable, the module features an easy-grip handle and a large table area.
Perfect control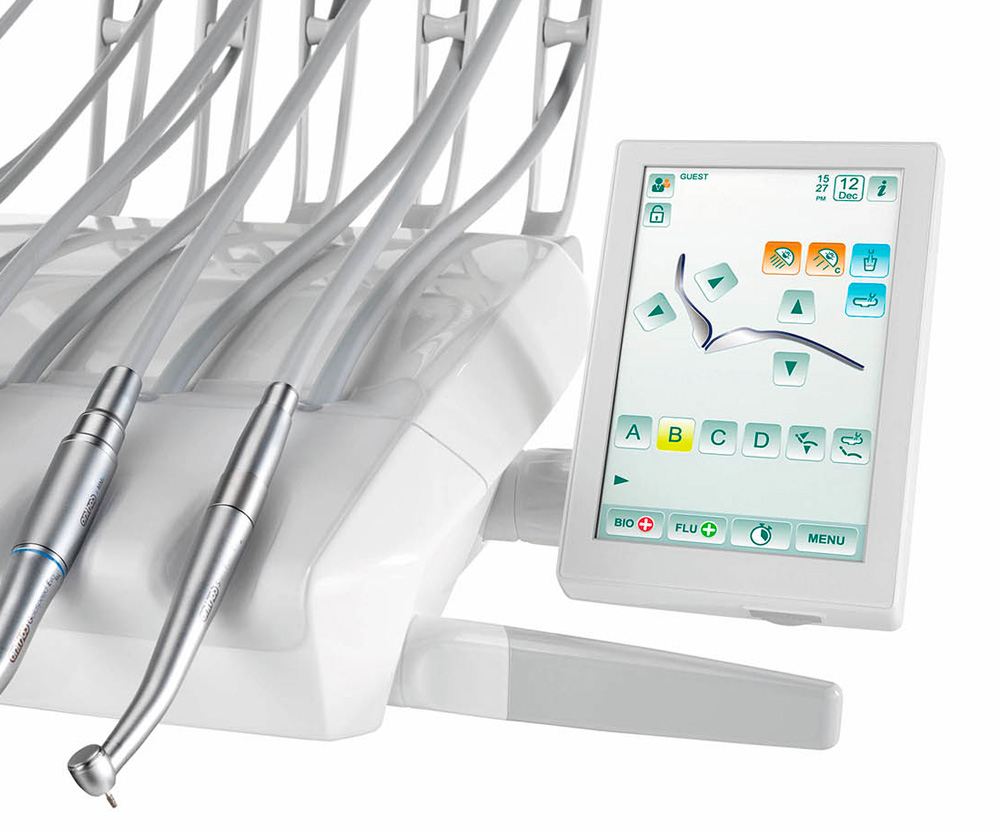 The control panel lets users manage all dental unit functions and personalise parameters with ease using integrated devices. Classe R7 features the Full Touch Clinic control panel as standard. On the optional Full Touch Multimedia version, advanced functions also let users display images and videos.
The Clinic instrument panel controls patient chair movement, displays data for conservative, endodontic and implantology work; it is also used to manage hygiene devices and other accessory services. The protective glass is impact and water-resistant and can be disinfected easily and safely.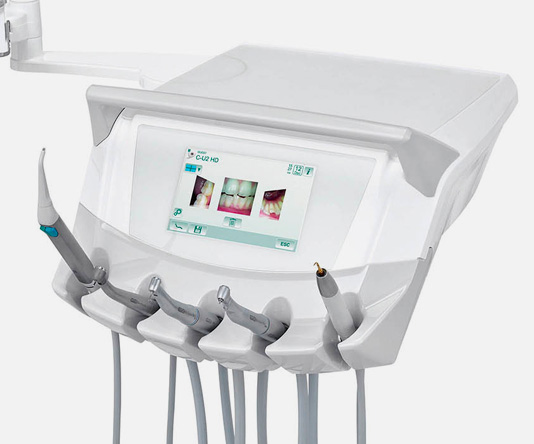 Multimedia control panel
Camera-captured images and X-rays acquired via the integrated system can be displayed in HD.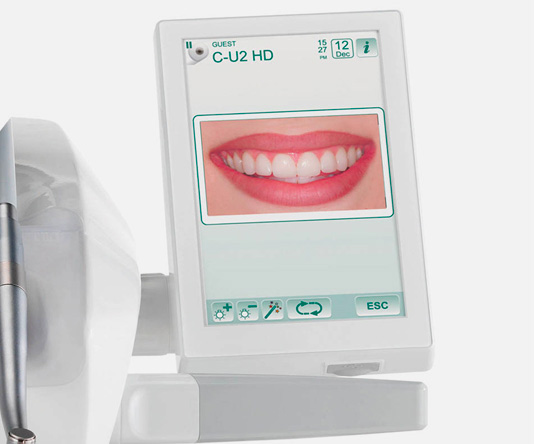 Images and video
The Multimedia control panel lets you watch clips on dental unit use and maintenance. The 7" multitouch HD screen offers immediate data display and can, on the Continental model, be rotated from vertical to horizontal and switched from one side of the dentist's module to the other. Intuitive on-screen graphics speed up work. Smartphone-like operation makes for an extremely simple, up-to-the-minute user experience.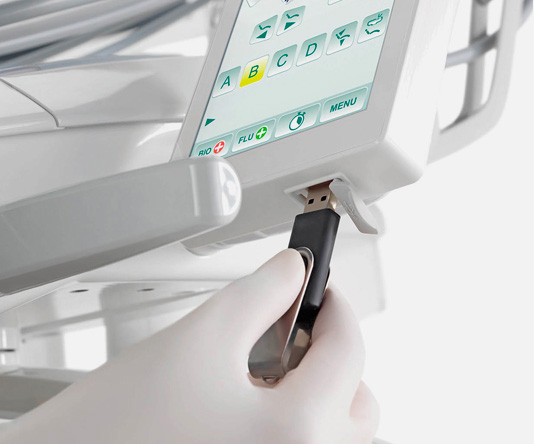 USB
A convenient USB port lets individual dentists save and download their personalised settings, a feature that's extremely useful in surgeries with two dentists or more. Acquired images can also be downloaded.
Choice of advanced instrupments
A latest-generation microprocessor and a user-friendly control panel ensure dentists can control a full range of instruments, simply and precisely. Work modes can be set for each instrument and real-time, user-friendly usage info is shown on the 7" display.
Turbine, micromotor, scaler, curing light and intraoral camera settings can be adjusted for specific dentistry specialisations. An intraoral camera or curing light can be added as the sixth instrument.
Made-to-measure assistant's side
Maximises assistant-side configurability
Classe R7 maximises assistant-side configurability. Solutions with a 3 or 5-holder assistant's module are available. Mounted on a height-adjustable double- articulated arm, this highly useful module incorporates a glass-protected touchscreen that controls patient chair movement and other key functions such as activation of hygiene systems (where applicable), water to the cup, operating light on/off, rinse and stand-by.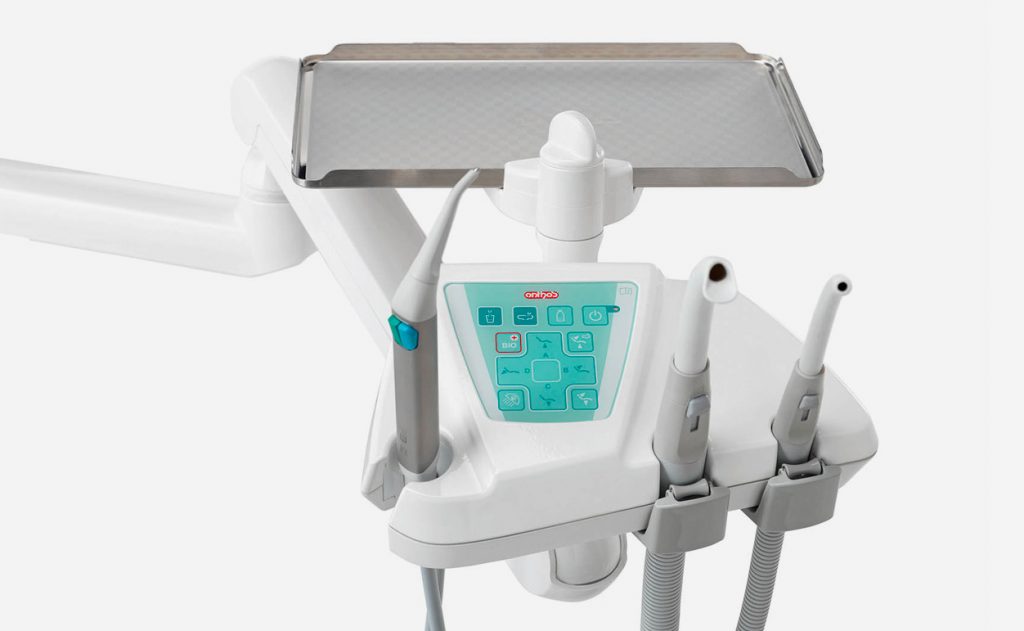 Assistant's module with 3 instruments
Supplied as standard, the 3-instrument module can assume multiple positions, ensuring an effective response to every clinical need.
A positionable stainless steel tray holder completes the accessory range.
Assistant's module with 5 instruments
The optional module has 5 instruments. It can assume any position needed to maximise working ergonomics. The 2 cannulae can be combined with up to 3 selected handpieces, including camera, syringe, T-LED curing lamp or a dynamic instrument.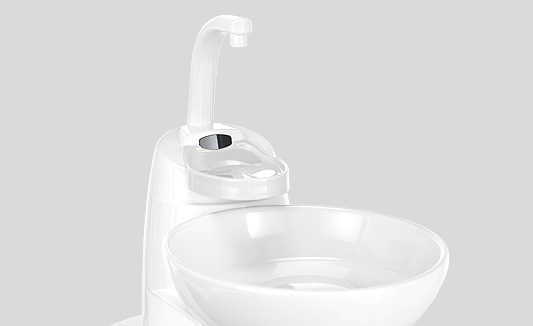 Cuspidor bowl with optical sensor
The water-to-cup delivery system can be equipped with an optional automatic filling sensor. The ceramic cuspidor bowl is fully removable to allow fast, efficient sanitisation. A powered cuspidor bowl is also available as an optional. In this case the software synchronises rinse tasks and patient chair movement.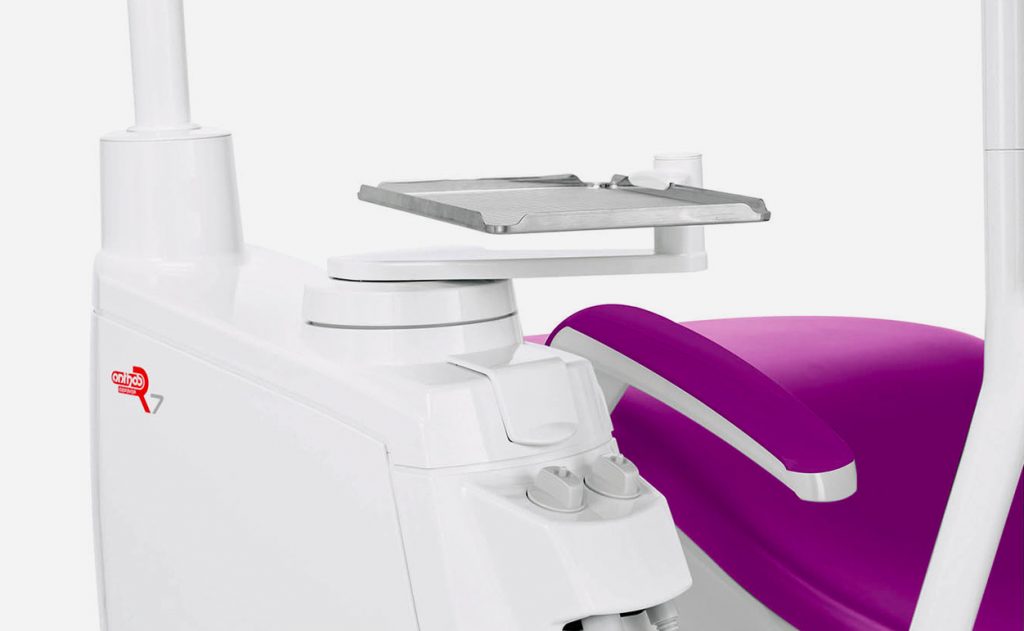 Swivel tray holder
The cuspidor bowl can be replaced with a swivel tray holder installed on the front cover of the unit body.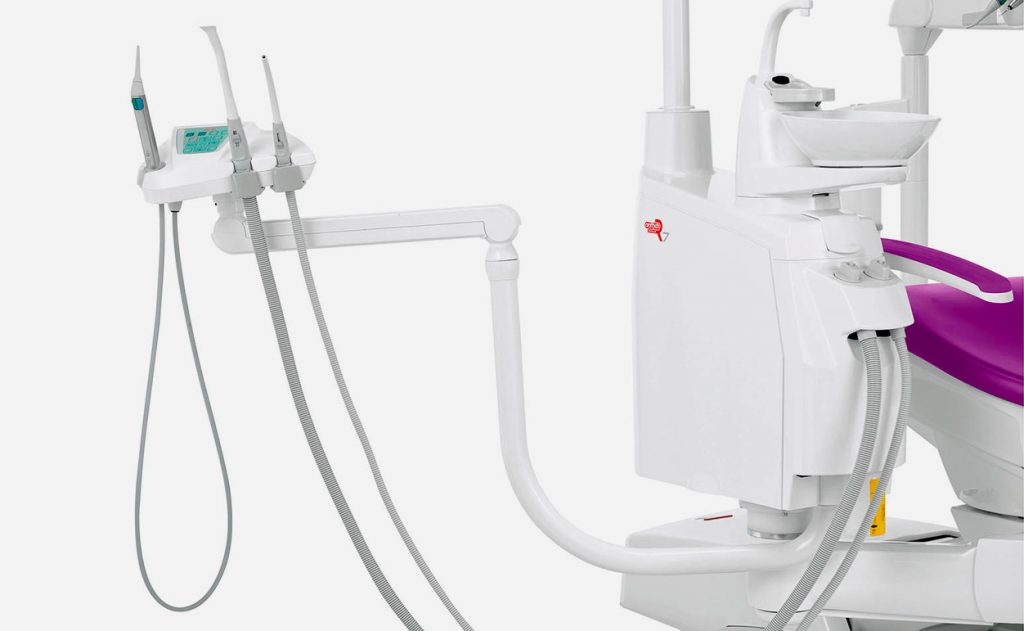 Modular Version
On R7 Modular versions, the assistant's module can easily be positioned on both sides of the patient chair thanks to the articulated height-adjustable arm which swivels around the pin located behind the seat.
Configuration for orthodontists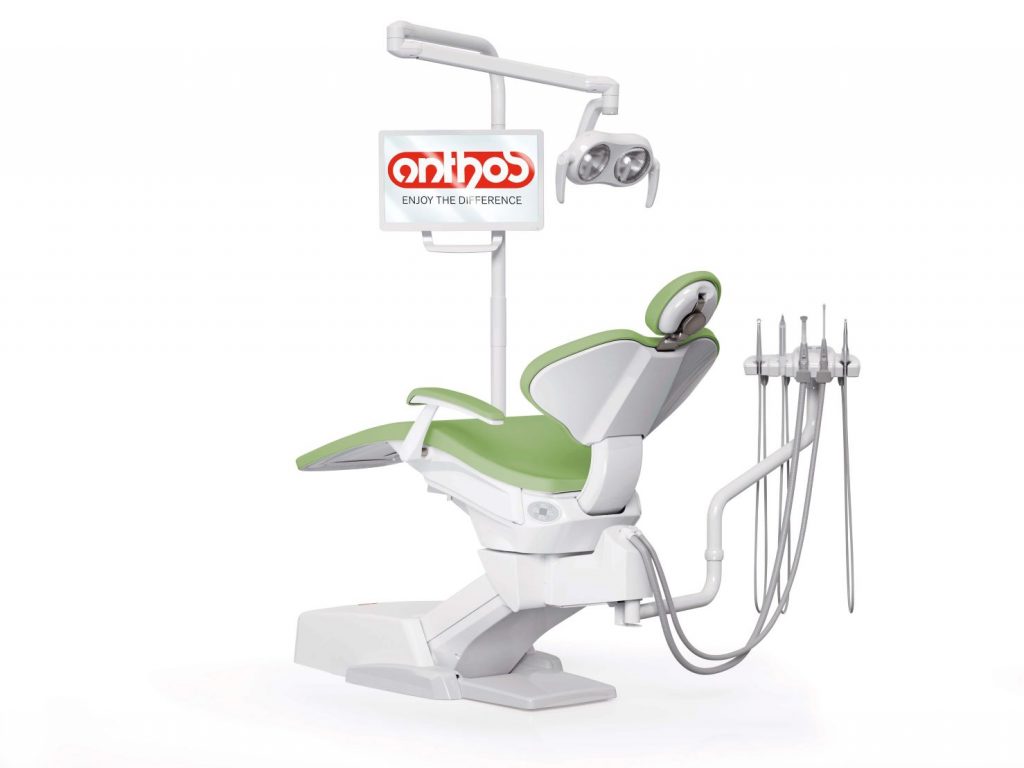 Configuration for orthodontists
Specifically designed for orthodontists, the version with the special arm secured in the rear of the patient chair includes a higher- performance module to optimise treatment management. The extensive arm swivels freely from one side of the chair to the other and incorporates the module with five holders for syringe, suction and dynamic instruments, plus a small display integrated on the control panel.
Orthodontist's module.
Orthodontists can choose the configuration of the module, which has holders for two cannulae, a syringe and two dynamic instruments. They can also choose freely among turbine, scaler and micromotor. The display indicates instrument speed or power while the keypad lets users control the light, patient chair and the same instruments. Orthodontists can enjoy additional convenience with an optional positionable tray holder.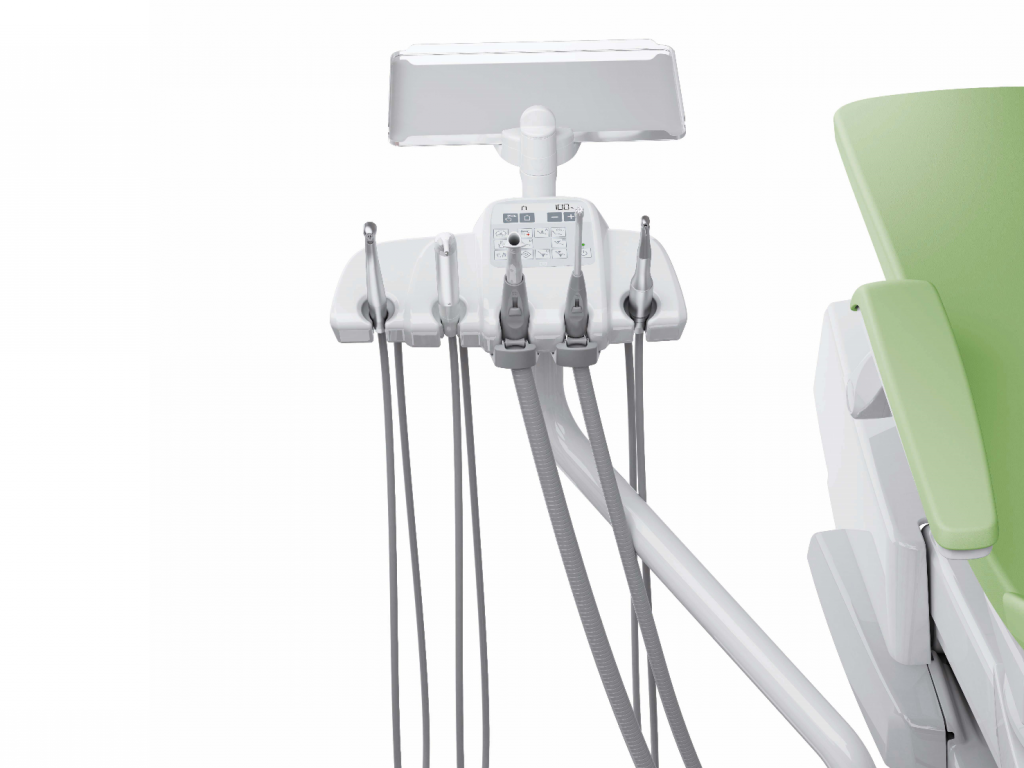 Operating light
Lighting technology
LED operating lights ensure optimal illumination of the treatment area. Today's technology allows lighting parameters to be adjusted as per individual clinical requirements.
Venus Plus L-LED
Venus Plus L-LED features a potentiometer that lets users adjust light intensity from 3,000 to 50,000 Lux and has a colour temperature of 5000K. On-off control and adjustment via infrared sensor.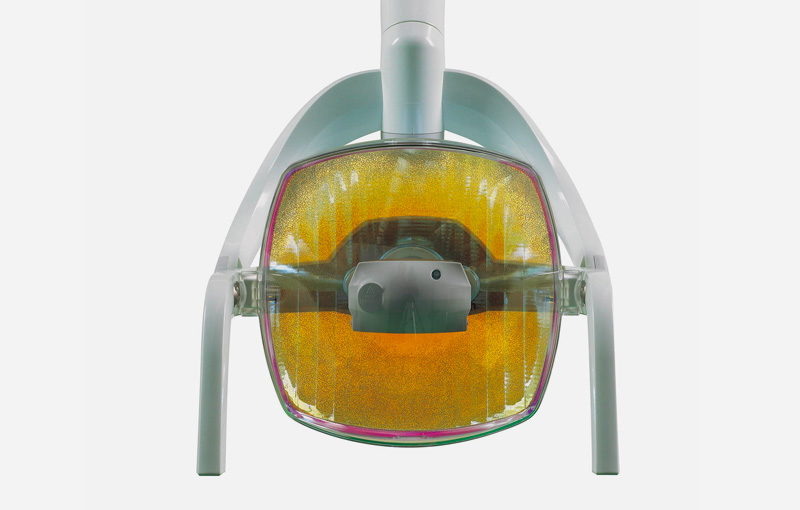 Venus Plus
Venus Plus features a removable front screen and handles. It moves around three axes, ensuring maximum manoeuvrability. Equipped with a soft-start device, it has a colour temperature of 4900K and adjustable light intensity from 8,000 up to 35,000 Lux.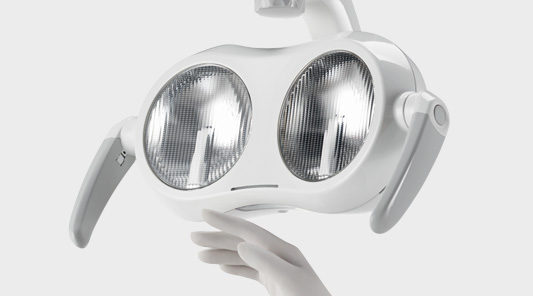 Venus LED MCT (Multi Colour Temperature)
The Venus LED MCT (Multi Colour Temperature), instead, allows for the use of three different colour temperatures to ensure perfect lighting of the oral cavity under all circumstances. 4300K warm light for surgical treatment, 5000K neutral light for conservative dentistry and 5500K cool light for realistic colour capture. All temperature variations, from warm to neutral or cool and vice versa, can easily be activated and always ensure a perfect view of the operating area according to the treatment being performed. Optimal light beam efficiency minimises shadows in the oral cavity.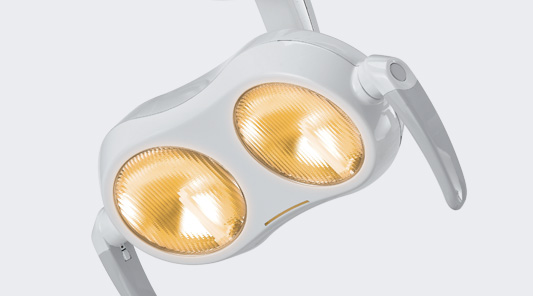 Curing Mode
The special Curing Mode function modifies light wavelength to prevent pre-polymerisation of the compounds, simultaneously ensuring optimal lighting.
Effective communication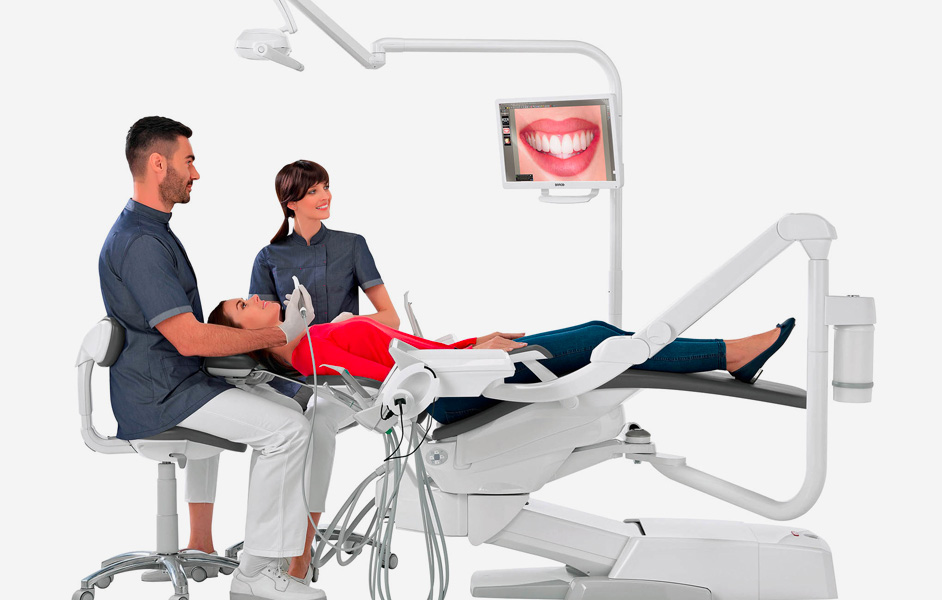 The Classe R7 comes ready for integration of a multimedia system, with imaging and X-ray devices providing excellent communication.
The immediate availability of diagnostic data enhances medical team efficiency, eliminating downtimes and workflow interruptions.
Active protection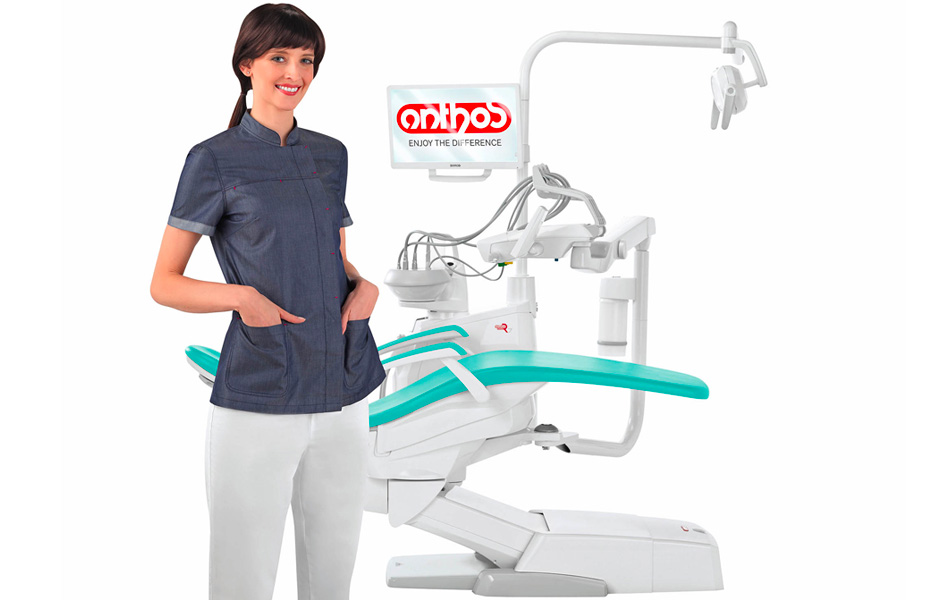 Workplace safety – for patient, dentist and assistant alike – depends on the effectiveness of integrated systems, and Anthos has one for every need.
The Full Touch panel gives users full control over devices and also can be used to manage individual sanitisation or disinfection cycles.
---