Corpuls.manager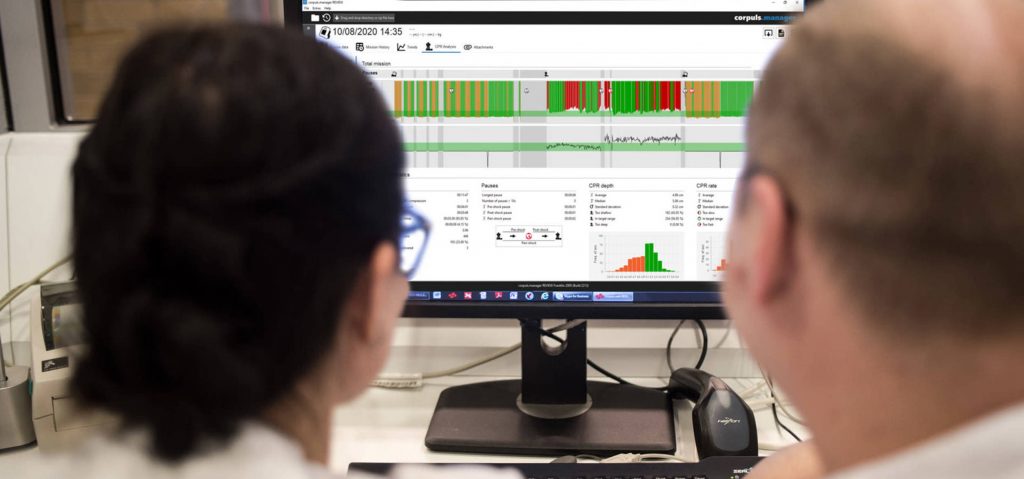 The mission does not end when the case is closed. The recorded data is your key to the continual improvement of mission processes. Not only does this benefit future patients, but also the efficiency of your organisation. With corpuls.manager you combine this "loose" data and generate new knowledge from it. Retaining an overview – and control of your data. Delve into the details of a single mission or look at your missions as a whole. Automatic mission upload means that the latest information is always available to you, displayed in clear graphics and diagrams. Supported by artificial intelligence, you will discover new connections and save evaluation time.
---
Za narudžbu, provjeru cijena i raspoloživosti proizvoda molimo da nas kontaktirate.

CORPULS.MANAGER REVIEW
How did the team work in the field? Where there are any problems? Are there any training requirements? corpuls.manager REVIEW provides the answers to these and more questions.
With corpuls.manager REVIEW you can look at the mission down to the second and identify any potential weaknesses in the rescue chain.
Optimal mission follow-up is just as crucial as its preparation. This is the only way to identify weaknesses at an early stage and take the appropriate training measures. This is where the corpuls coach comes into play, the free corpuls.manager REVIEW. Every corpuls device use can be tracked down to the second within the software. Data from the corPatch CPR* Feedback sensors as well as curves and vital parameters measured by the corpuls3 are also included.
Precise analysis and debriefing of a mission
Detailed observation of the measured curves and parameters
Resuscitation quality evaluation by analysing the corPatch CPR* Feedback
Free download after registration on my.corpuls
* corPatch CPR is a licensed product from the ZOLL Medical Corporation.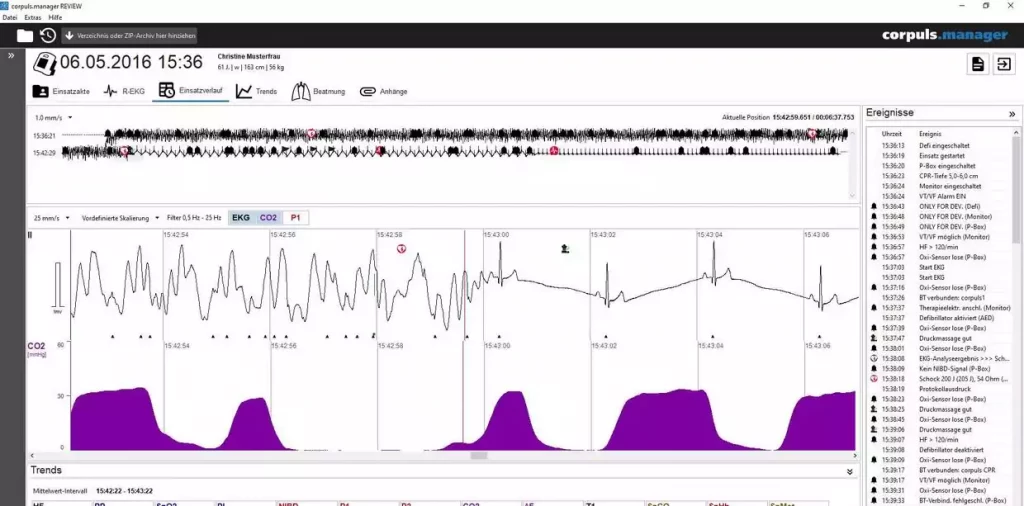 CORPULS.MANAGER ANALYSE
All your mission data. In one place. Filter and analyse as required and anonymise if necessary. Whether for research or controlling – corpuls.manager ANALYSE offers optimal management for large amounts of data.
The server and data management solution corpuls.manager ANALYSE centrally and automatically manages all data from your corpuls device fleet – ideal for research and controlling.
Our server and data management solution corpuls.manager ANALYSE provides you with the overall "big picture". It is the analyst from corpuls. All the data from your corpuls device fleet is automatically uploaded here and saved centrally. This gives you the opportunity to collect and analyse data from all missions. In addition to quality management, corpuls.manager ANALYSE is an ideal tool for data acquisition for medical research projects.
A business intelligence solution is also available as an add-on to corpuls.manager ANALYSE. With 13 preconfigured dashboards, the mission data from an ANALYSE database can be graphically evaluated. Extensive and easy-to-use filter functions are available so that every user can answer individual questions and find specifics within the data.
Management and analysis of all missions in one place
Extensive search and filter options
Automated upload of data from corpuls devices
Use the browser-based application on every internet-enabled device
New knowledge through business intelligence
Ideal for organization-wide quality management
Support for research and training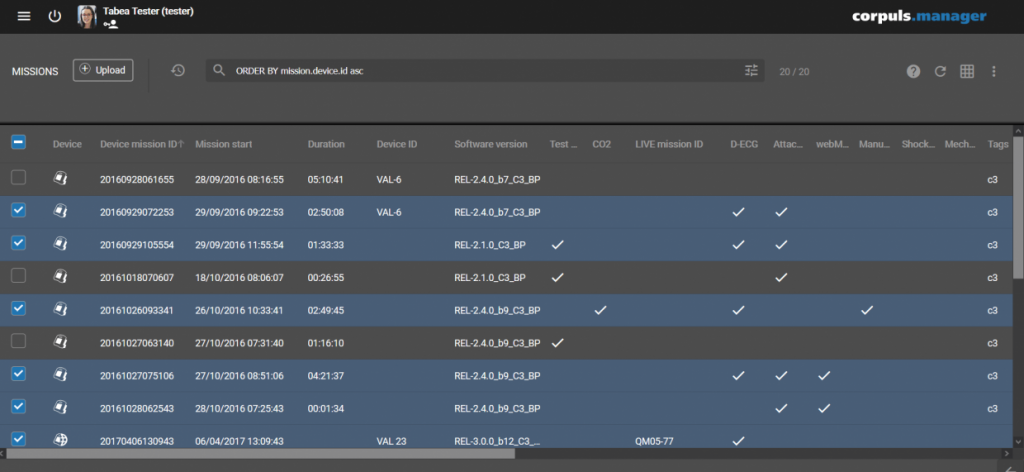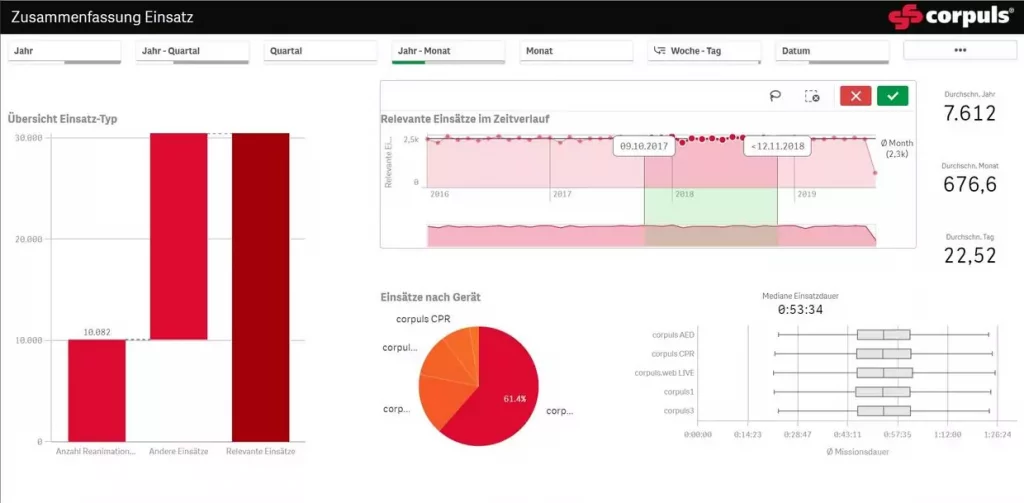 CORPULS.MANAGER ADMIN
Many devices, one interface. When using more than one corpuls aed, corpuls.manager ADMIN is the ideal partner. Status reports, software updates and configuration for all devices in one place.
With corpuls.manager ADMIN you can always keep an eye on your corpuls aed.
After the regular self-tests, your devices automatically connect to your server. Using any web browser, you can view the current status in corpuls.manager ADMIN and identify devices which need to be serviced immediately – without having to be near the devices.
Central management of the entire device fleet
Detailed, automatic status and self-test reports for each individual device (can be received from the device via WLAN or SMS)
Over-the-air updates: Transfer of software updates and language packages to any number of corpuls aed devices
Configurable e-mail notifications when a device is identified as requiring maintenance
Transfer of configuration profiles to freely definable device groups
Download of mission data – optionally with automatic transfer to corpuls.manager ANALYSE