X-ray imaging that is precise, practical and versatile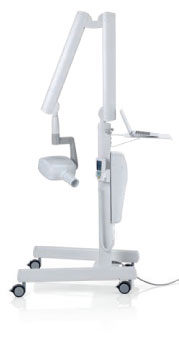 We've designed and built the instruments your surgery's been waiting for: practical, high definition, ergonomic and versatile.
Instruments that make work easier and more professional, that improve dentist patient relations thanks to immediate
diagnosis and real-time high definition imaging. Solutions that adapt to the dentist's work, boosting the surgery's
diagnostic capabilities and improving the quality of the work provided.

RXDC efficiency stems from a combination of advanced technology and an outstanding capacity to produce high definition images. The RXDC X-ray unit provides top-flight performance, practicality and technology.
The RXDC features a constant potential high frequency (DC) generator and a very small focal spot (0.4 mm) capable of providing sharp, detailed images while ensuring working comfort and low doses for the patient.
Higher performance with RXDC, the X-ray unit that combines high definition imaging, ergonomic design and low X-ray doses.
---
Za narudžbu, provjeru cijena i raspoloživosti proizvoda molimo da nas kontaktirate.
Technical Specifications
Generator
Constant potential, microprocessor-controlled
Working frequency
145 – 230 KHz with self-adjustment (typically 175 KHz)
Focal spot
0.4 mm (IEC 336)
Total filtration
2.0 mm Al @ 70kV
Anode current
4 / 8 mA
Voltage at X-ray tube
60 / 65 / 70 kV (*)
Exposure times
0.020 – 1.000 seconds, R'10 and R'20 scale
Source-skin distance
20 and 30 cm
Irradiated field
Ø 60 mm and Ø 55 mm (with round cone)
Additional collimators
35 x 45 mm (with rectangular cone for size 2 sensors)
31 x 41 mm and 22 x 35 mm, for size 1 and size 0 sensors
Power supply
50/60 Hz, 115-120 V AC ±10% or 230-240 V AC ±10%
Duty Cycle
Continuous operation with self-adjustment up to 1s/90s total
Arms (for Standard version only)
Available in 3 lengths: 40 cm – 60 cm – 90 cm
Max. arm extension
230 cm, from wall
Versions
Standard (wall mounted) or Mobile (on portable cart)
(*) values depend on the country where the product is marketed.