Teničke informacije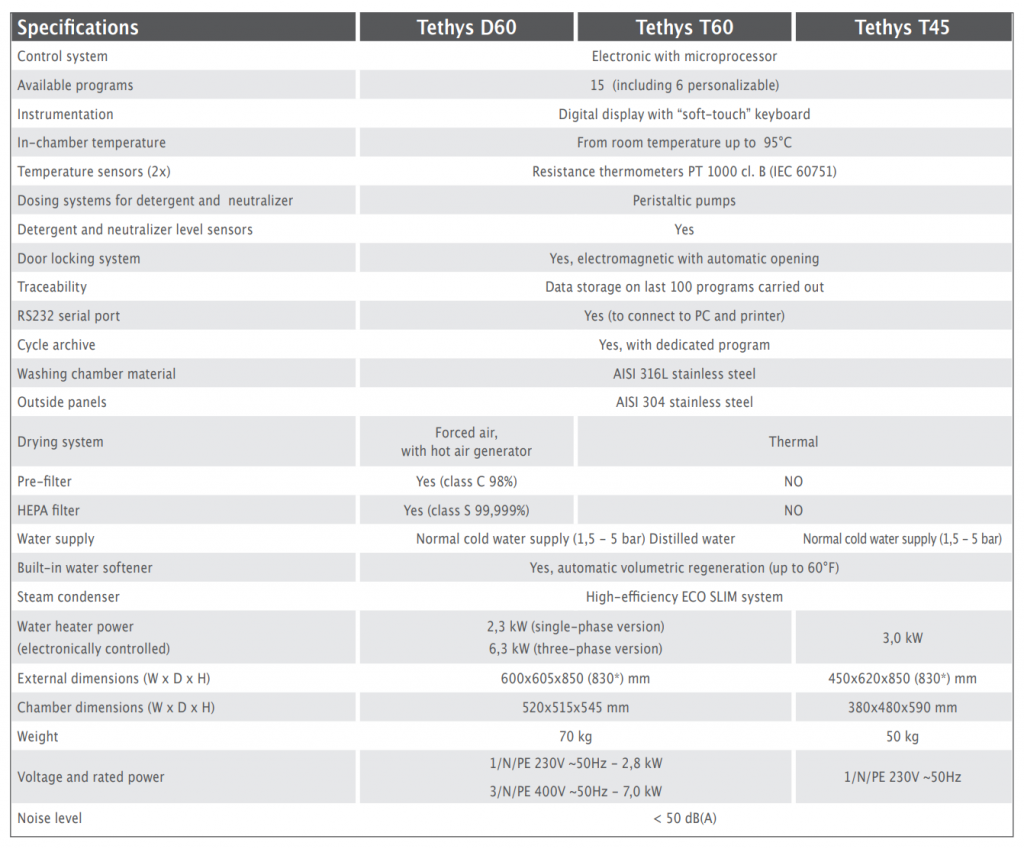 Detaljan opis
Dimensions
There are 45 cm (Tethys T45), and 60 cm (Tethys D60/T60) versions available, so these washer-disinfectors can be easily installed under a worktop, and will fit into various layouts in sterilization areas without difficulty.
Door locking system
An automatically controlled electromagnetic device prevents the door being opened until a cycle has finished.
Steam condenser
The integrated steam condenser can swiftly eliminate the saturated steam generated inside the machine during the disinfection phase, so condensation cannot form during the cycle.
Printer
Traceability of washing and disinfection cycles is an indispensable requirement as evidence that a process has been carried out correctly. The optional printer therefore becomes a useful accessory for saving data in print-out form.
Peristaltic pumps
Tethys washer-disinfectors are fitted with two peristaltic pumps, for controlled detergent and neutralizing additive dosage, and high precision level sensors. This set-up ensures total repeatability, without the need for staff intervention.
Thorough drying
The Tethys D60 model is fitted with a highly efficient forced-air load drier.
The system comprises an efficient hot air generator and powerful fan, which circulates purified hot air in the washing chamber, ensuring quality and sterility through the use of an absolute HEPA filter.