CORPULS3
A revolutionary device concept
The corpuls3 leaves the traditional path of a classic defibrillator/patient monitor and convinces with its modular design.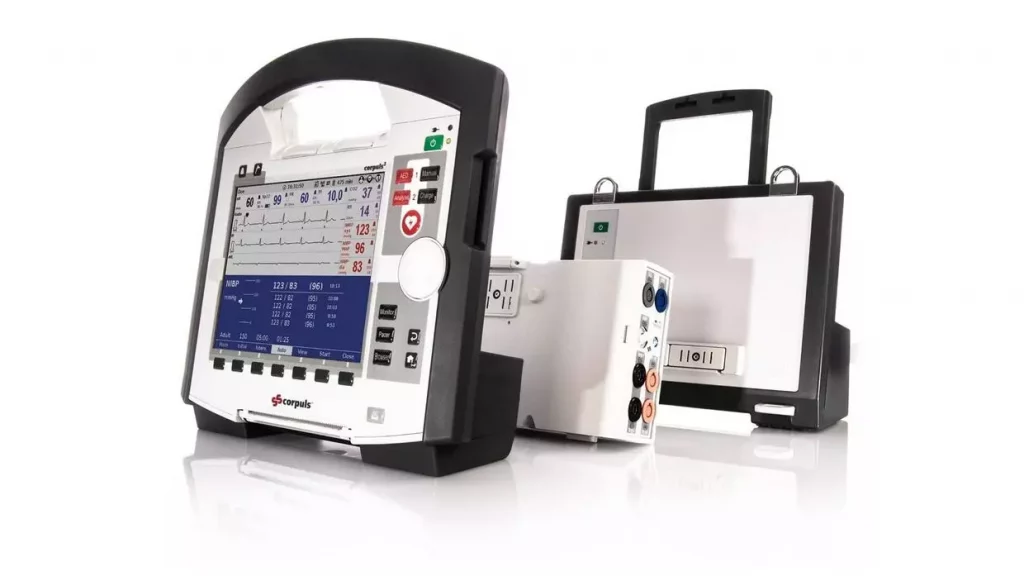 ---
Za narudžbu, provjeru cijena i raspoloživosti proizvoda molimo da nas kontaktirate.
Concept
THREE MODULES, FLEXIBLE APPLICATION
The corpuls3 has a unique and revolutionary device concept. The modular design distinguishes the patient monitor with integrated defibrillator/pacemaker from other compact devices and can be divided into: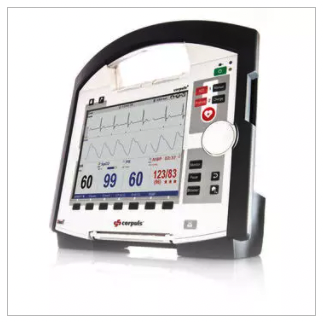 MODULARITY
Continuous monitoring from the incident site all the way to the hospital
Permanent monitoring from a safe distance (e.g. in CT)
More ergonomic when transporting the patient through division of the modules
More patient safety by recording and saving the parameters directly on the patient
More flexibility at the incident site through division into function sections, display, data recording and therapy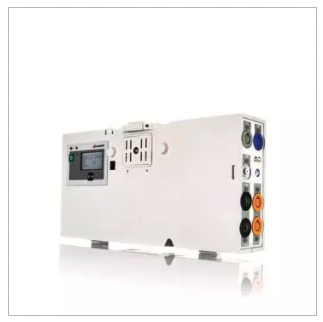 SPECIFICATIONS
Intuitive user interface for an optimum and fast diagnosis
Constant and immediate feedback through corPatch CPR* sensor enables best possible CPR
Brilliant 8.4″ display with customisable views
Regular software updates
Many accessories (bag, adapter, electrodes…)
High degree of dust and water jet protection (IP55)
In conformity with selected sections of the US military standard MIL-STD-810 G
In conformity with selected sections of the internationally valid
aerospace standard (RTCA DO 160 G)
Application with night vision devices possible (NVG mode)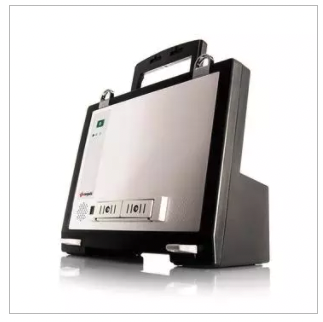 MOUNTS
Special mounts for each module
Space-saving design of the mounts
Mounts available with and without
power supply
Ergonomic placement of the device in the vehicle
Mount for the complete device with self-locking mechanism
Adapter solution for standard vehicles
Stretcher adapter for secure placement on stretchers with wheels
Weight
6 kg
SLIM, basic configuration
Operating temperatures
-20 °C to +55 °C
basic functions: ECG monitoring, defibrillation
Dimensions
29.6 cm (H) × 30.5 cm (W) × 19.5 cm (D)
corpuls3 SLIM
Monitor unit
MAXIMUM MOBILITY, EASY TO OPERATE, FAST DIAGNOSIS
The monitor unit displays all curves and vital parameters and is at the same time the operating interface of the corpuls3. The intuitive user interface supports and assists the user during the emergency call. The ergonomic handle and the shock protection on all sides additionally insure that the monitor with its weight of only 2.7 kg operates under even the toughest conditions.
SPECIFICATIONS
Large, transflective colour display (8.4″)
Large display of up to 6 curves and 13 vital parameters
Resting ECG preview with 12 leads
Views can be freely configured and named.
3G modem and WLAN or LAN port for data transmission/live streaming
Weight
2.7 kg
Wide printer (106 mm) with simultaneous real time printout of up to 6 curves
7 soft keys and function buttons for instant access to important menu items
Intuitive concept of operations with jog dial for easy menu navigation
1-2-3 operation in the defibrillation modes
Shock protection on all sides
Dimensions
29.5 cm (H) × 30.5 cm (W) × 12 cm (D)
FULL CONTROL
Up to 6 curves and 13 vital parameters can be displayed simultaneously on the brilliant 8.4″ display. Fully customisable, freely nameable and, in the case of the NIBD display, with quality indicator. This way, paramedics or the emergency physician always have the information at hand that they need at that very moment. No more, no less.
FULL COMMUNICATION
The integrated connectivity functions such as WLAN and GSM are ideally suited for remote medicine and the corpuls telemetric solution corpuls.mission. Up to 6 curves can be printed in real time via the broad printer.
Patient box
UNINTERRUPTED MONITORING FROM THE INCIDENT SITE ALL THE WAY TO THE HOSPITAL
The patient box serves to process and transmit the ECG and sensor signals. This very lightweight module together with the pre-connected sensors and cables that are stored in the spacious protective bags can remain directly on the patient. This way, the patient can be monitored continuously, also when the patient is moved.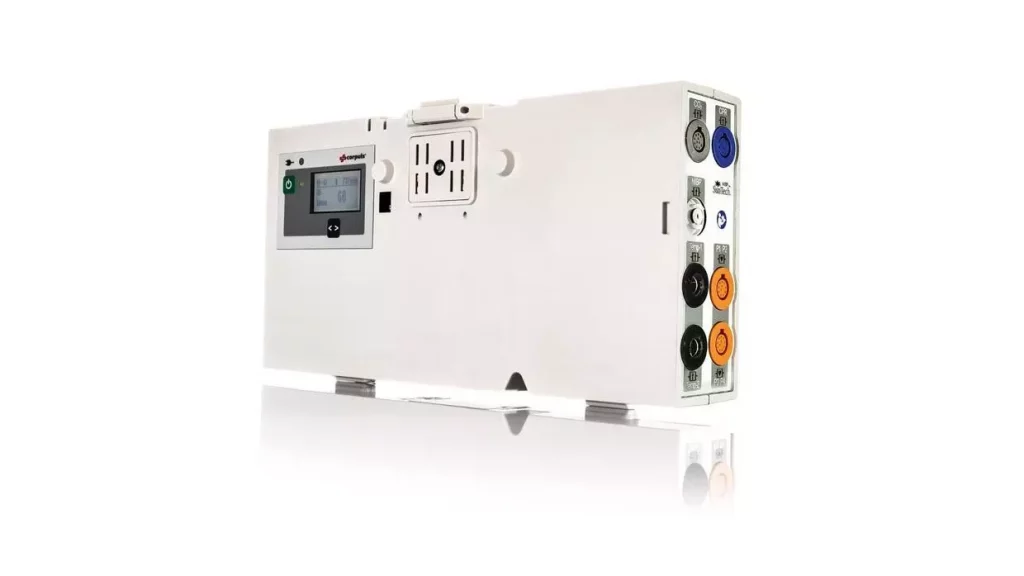 12-channel rest ECG, heart frequency
HES ECG analysis software
Masimo Rainbow SET® technology for measuring SpO2, PP, PI, SpCO, SpMet, and SpHb
(Automated) non-invasive blood pressure measurement (SunTech®)
CO2 measurement with the capONE® main stream technology (also in non-intubated patients)
corPatch CPR* feedback
2 channels for measuring the temperature
Weight
1.0 to 1.3 kg (excl. accessories)
4 channels for invasive pressure measurement (e.g. arterial/venous and cranial pressure)
Inherent display shows the vital parameters, remaining time and alarms
Acoustic signaller
Microphone for voice recording
Data export via CompactFlash®
PAX® accessories bag for sensors and cables
Dimensions
13.5 cm (H) × 26.5 cm (W) × 5.5 cm (D)
INHERENT DISPLAY
Thanks to an inherent display, important vital parameters such as heart frequency or NIBD can also be monitored directly on the patient box. When necessary, these parameters can be recorded by the patient box together with the voice and acoustic alarms.
PERMANENT COMPANION
With a weight of 1 to 1.3 kg depending on equipment, the patient box is so mobile that it can remain on the patient. This also includes all sensor cables. This way, they are not only out of the way; continuous monitoring is also possible, for example when transporting a patient through a narrow staircase.
Defibrillator / pacemaker
OPTIMUM ERGONOMICS AND FLEXIBILITY IN USE
The modular design of the corpuls3 allows complete detachment of the defibrillator/pacemaker. This saves weight and shocks can be administered from a safe distance via the monitor unit (in connection with the corPatch therapy electrodes).
Bi-phase square pulse, impedance-compensated
2 to 200 Joule, configurable energy protocol
AED and manual defibrillator
1-2-3 operation
AED protocol in accordance with the current guidelines, can be updated at any time
Transcutaneous pacemaker with FIX mode, DEMAND mode and overdrive mode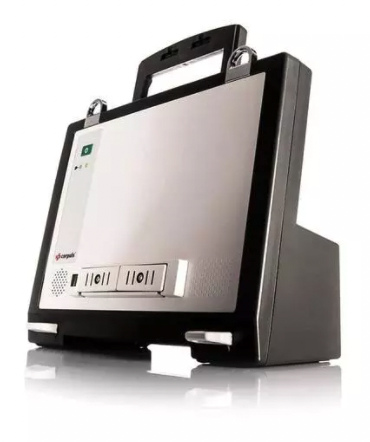 Pre-connected corPatch therapy electrodes in separate bag
Can also be used with hard paddles or internal shock paddles
Compact and lightweight
Weight
2.3 kg
Dimensions
22 cm (H) × 28 cm (W) × 12 cm (D)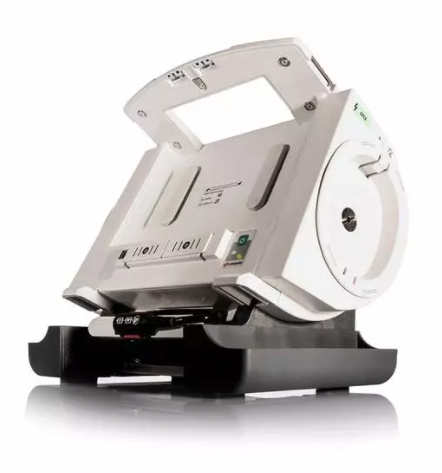 atented safety shock paddles
30° swivel radius
Can also be used with internal shock paddles
Weight
3.7 kg
Dimensions
29 cm (H) × 30 cm (W) × 19 cm (D)
Synchronised Therapy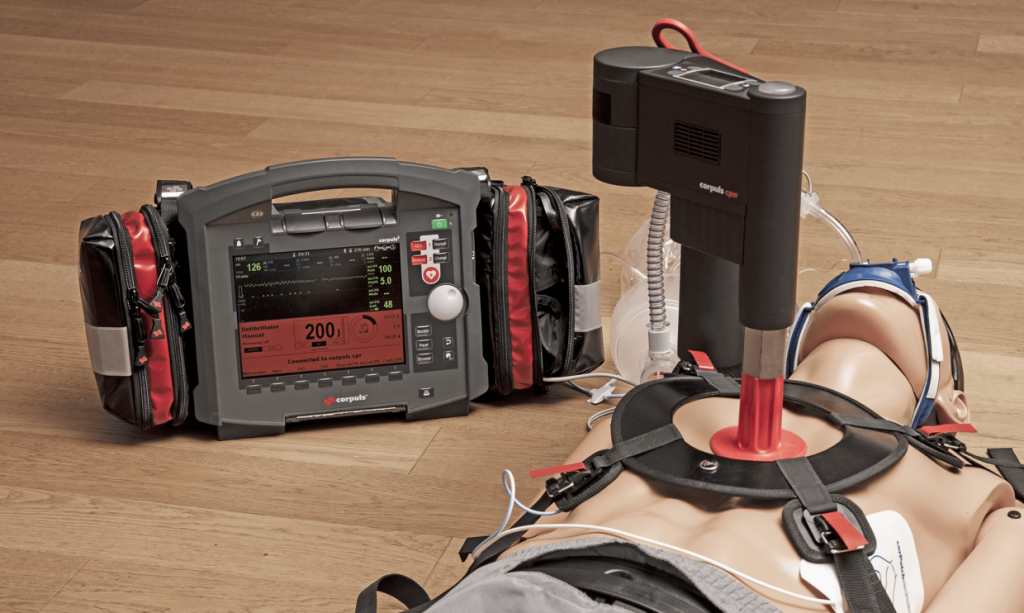 Resuscitation can quickly become stressful. Thanks to the Bluetooth connection, the corpuls cpr is effectively the fourth module of the corpuls3T / corpuls3. The team is supported by the remote control of the corpuls cpr via the corpuls3T / corpuls3. Treatment can be safer and the hands-off time reduced thus increasing the patient's chance of survival.

Shorter Hands-off time
Perfect in tight spaces and during transport (land/air)
Easier and faster operation
Increased safety
Data transmission to corpuls3T as well as corpuls.mission and corpuls.manager
Can be used in aed- & manual modes
From software version 4.0 (corpuls3) & software version 1.2 (corpuls cpr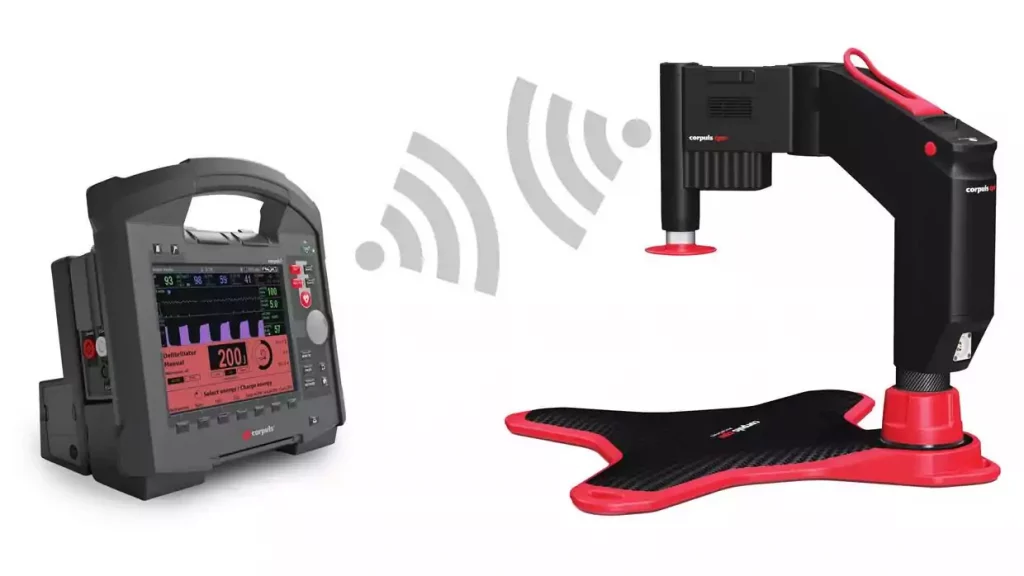 Sophisticated energy management
The best energy management is the one you don't have to think about. This is precisely the optimum we have achieved with the corpuls3 energy management.
When you take the corpuls3 out of the charge mount in the vehicle it is ready for operation. As soon as the device is returned to the mount the batteries are charged automatically and the corpuls3 is ready for its next job. Time-consuming and fault-prone manual charging and changing of batteries is not required and the user can fully concentrate on the patient.
The batteries of all three modules are identical and extremely powerful. In compact mode, they simply use the battery reserves of the other modules. This concept always provides sufficient power even in long deployments to ensure comprehensive monitoring and the therapy with the defibrillator/pacemaker.
Battery life of up to 10 hours as a compact device
A complete charge of the batteries in the device takes approximately 2 hours
Display of the remaining battery life on the monitor's display and on the patient box
Charging via 12 V DC or 100V AC – 240V AC (50 Hz – 60 Hz) via magnetic contact (MagCode)
Operation as a compact device even if up to two batteries are discharged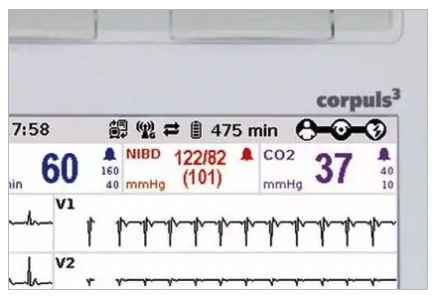 Versatile mounts
There are solutions for each application: Mounts on the wall and floor, with or without swivel mechanism or safe attachment on the stretchers by different manufacturers. Almost all mounts are in conformity with DIN EN 1789 and have been tested with an acceleration of up to 24 g instead of the specified 10 g. The mounts are also available with or without integrated power supply.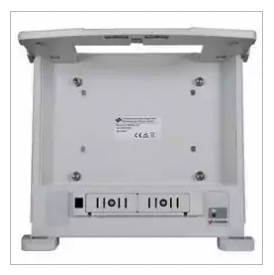 Shallow installation depth, low weight
Also fits monitor and patient box combinations
12 V DC, 100V AC – 240V AC (50 Hz – 60 Hz)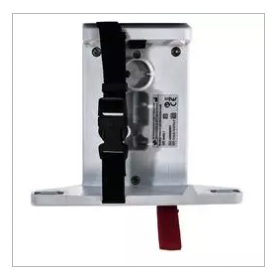 Adaptation options to standard stretchers with wheels
Easy adaptation and unlocking
12 V DC, 100V AC – 240V AC (50 Hz – 60 Hz)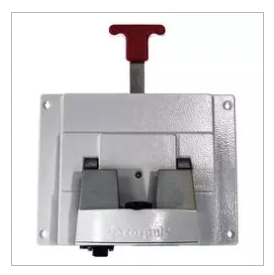 Can be unlocked with one hand via the handle
Self-locking after 10 seconds
12 V DC, 100V AC – 240V AC (50 Hz – 60 Hz)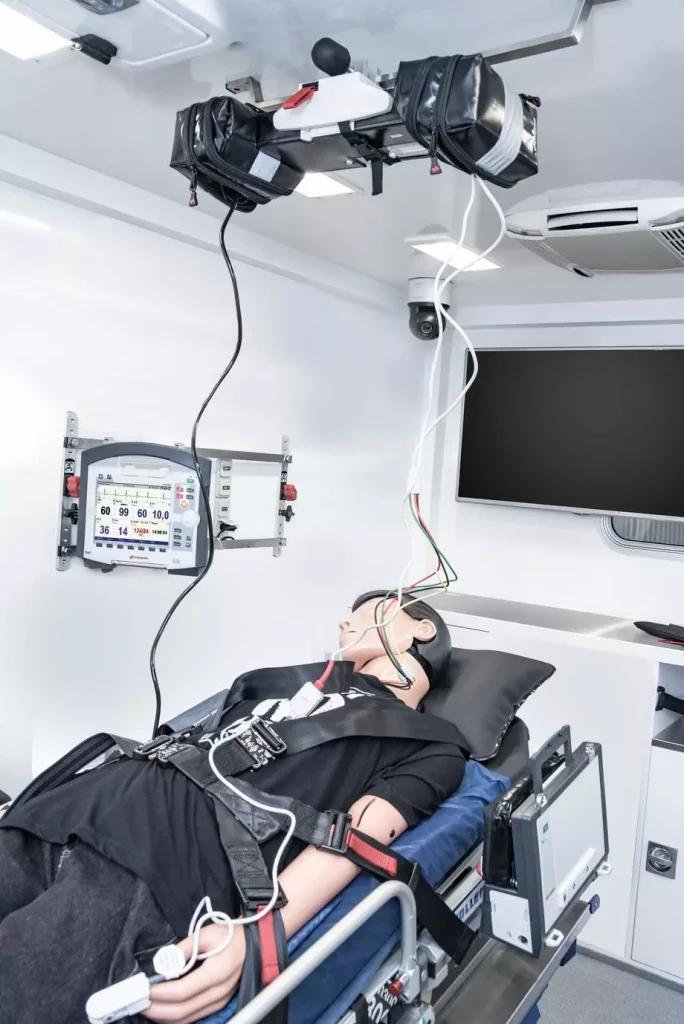 Versatile application fields
EMERGENCY MEDICAL SERVICE
People trapped in cars after a traffic accident, reanimation in a small bathroom, trapped survivors or transport through a staircase – emergency medical service calls are very versatile just as the demands on personnel and devices. With its modular design, the corpuls3 offers an optimum degree of ergonomics and flexibility in almost any situation.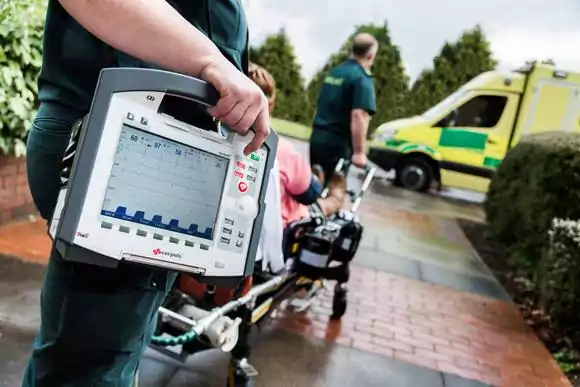 MILITARY
Regardless of whether in rough terrain, in deep snow or in a sandstorm: the corpuls3 reliably provides extensive patient data even in the most adverse weather conditions and most versatile application situations. It is therefore the ideal patient monitor/defibrillator for military use.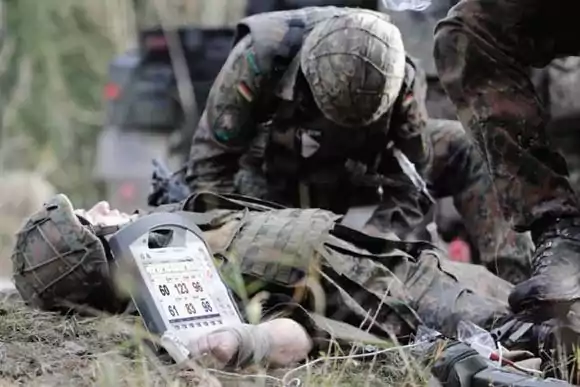 AIR RESCUE
Almost every patient who is transported in a helicopter or aeroplane is in critical condition and must be permanently and extensively monitored. The stress factor increases enormously due to time pressure, tight spatial conditions and loud volume. The innovative device concept of the corpuls3 optimally supports the response staff.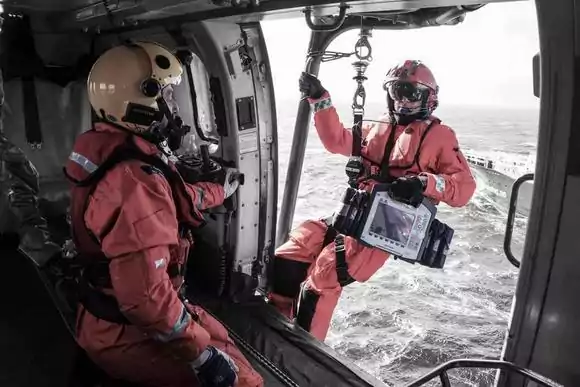 HOSPITAL
In a hospital environment the corpuls3 can be applied in almost any area due to its versatility: as a modular transport monitor for intensive care patients, as a 12-channel rest ECG device in the emergency room or as a defibrillator that is integrated in the hospital's reanimation concept.
*: corPatch CPR is a licensed product of the ZOLL Medical Corporation.